The Ascension is one of the most important feast days in the Catholic Church.
After the resurrection, Jesus spent forty days instructing his followers until he left them on the Feast of the Ascension. On this day, Christ commissioned His Apostles to preach the Gospel to all nations and giving them His blessing.
"He was lifted up before their eyes, and a cloud took him out of their sight" (Acts 1, 9).
A Feast Day of Ancient Origin
The early Church has always celebrated The Ascension.
While it is a historical event that really happened more than 2,000 years ago in the Holy Land, it also marks this day for its theological significance.
Saint Augustine attributes the feast to the Apostles themselves and the Preface of our Mass states "Christ was lifted up to Heaven to make us sharers in His divinity."
Today, the Ascension date is no longer celebrated on Thursdays in all dioceses. Although the feast of the Ascension is a feast of the universal Church, celebrated on a Thursday, canon law allows episcopal conferences, with prior Vatican approval, to abolish various holydays or to transfer their observance to a Sunday. 
We will have two Ascension Feast Day celebrations:
At all Sunday Masses on the weekends of May 20 and 21
A Traditional Latin Mass Celebration of the Ascension on May 18. The May 18 Mass will be at Our Lady of Providence Oratory in Brownstown at 6:30 p.m.
 How to Celebrate the Ascension
The earliest celebrations of the Ascension are from the fourth century.  Surprisingly, they were not held on the Mount of Olives (although Saint Helena had built a basilica there), but in the Church of the Nativity in Bethlehem, according to Handbook of Christian Feasts and Customs by Francis X. Weiser, S.J. By the eighth century the Ascension feast in Jerusalem was solemnly kept on the Mount of Olives.
Processions lead people up to the top of a hill in imitation of Christ's leading the Apostles "out towards Bethany" (Luke 24, 50).  In Jerusalem it was the original path that Christ took to the summit of the Mount of Olives.
Three Easy Ways to celebrate The Ascension Feast Day in Modern Times
While we no longer see many of the celebrations of the Ascension such a plays, processions or picnics there are still some easy ways to mark the feast in our own homes.
Here's Three Easy Ways:
Attend one of our  Masses for the Feast of the Ascension.
Copy the Middle Ages custom of  eating a bird for dinner because Christ "flew" to Heaven. Have chicken dinner or cookies made in the shape of birds.
Go for a hike or picnic  somewhere and read the Bible story of Christ's Ascension.
Find out what else is happening at CCJC. Here's a heads up for May 18-27. Just click on the calendar image below: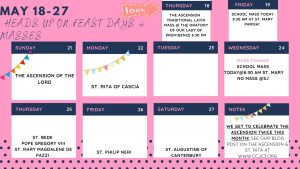 Photo image credit: The Ascension, altarpiece panel Early Renaissance
Uffizi Gallery, Florence, Italy