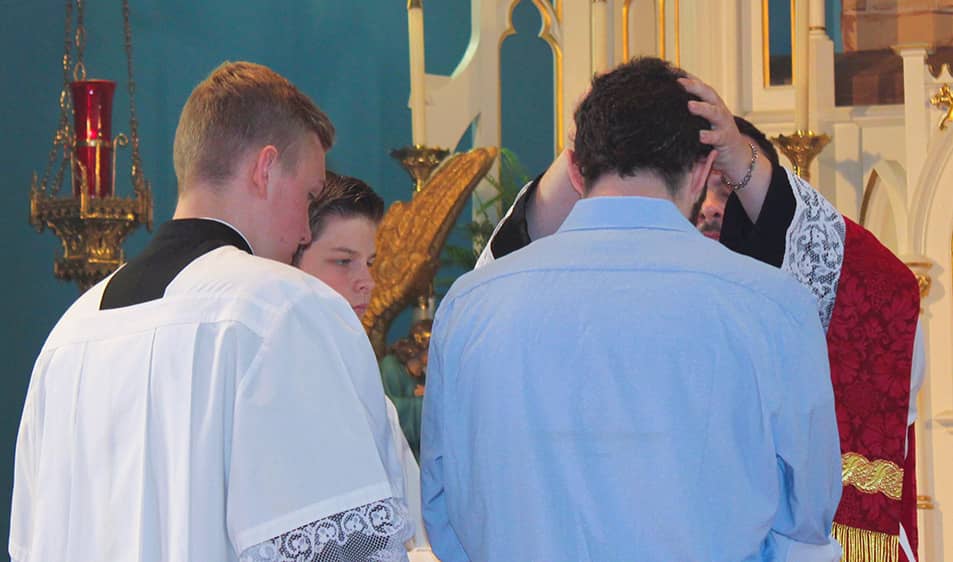 "The difficulty explaining why I am Catholic is that there are 10,000 reasons all amounting to one reason: that Catholicism is true." -- G.K. Chesterton
T
he Rite of Christian Initiation – R.C.I.A. – is primarily a journey of faith. It is a restoration of the ancient practice of initiation in the church. It is focused on conversion, whereby the candidates (individuals interested in becoming Roman Catholic) enter into an extended period of intellectual formation and life conversion through prayer, study and reflection upon the Gospel Message of Jesus Christ. It is a communal journey in which the local church community welcomes the new members in the parish community. The RCIA is not a program but a sacramental process in which candidates are fully initiated into One, Holy, Catholic and Apostolic faith. The program for our parish is held on Sunday mornings from 10:50 a.m. to Noon at the St. Mary's Parish Center. These are joint sessions with St. Ann's, St. Joseph's, and St. Mary's parishes. All fallen away Catholics, non-Catholics and practicing Catholics who want to learn more about the Catholic faith are invited to attend. For more information, contact the Parish Office.
---
Young Adult Ministry
The Young Adult Ministry's mission is to build a community of faithful young Catholics to help each other grow one with Christ.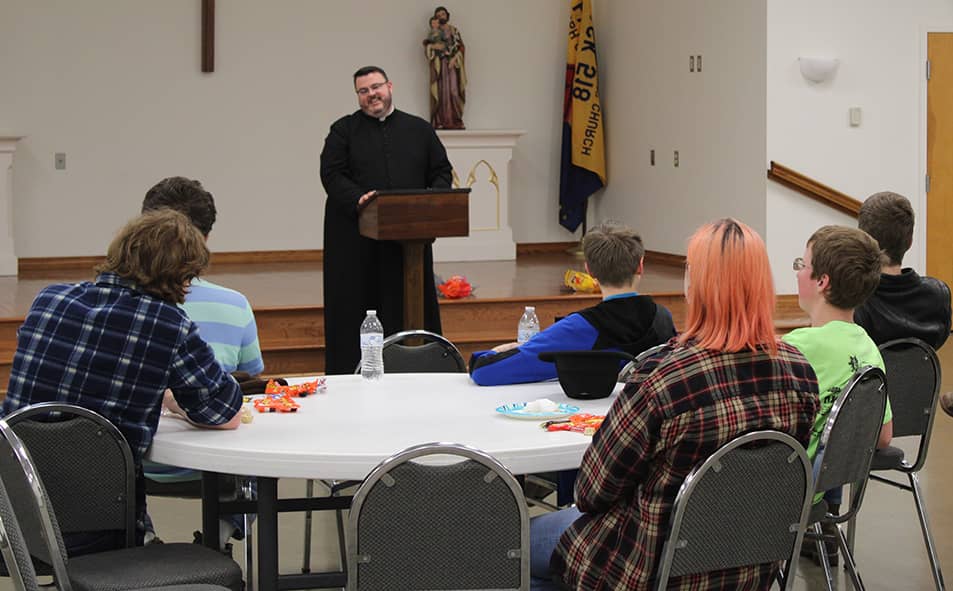 Frassati Youth Ministry
"To the Heights!"
-- Blessed Pier Giorgio Frassati
Frassati Youth Ministry gives our youth a place of community, friendship, and activities with our local parish and the Universal Church. We strive to create a space where they can learn about their Catholic Faith and be supported through the trials that come with adolescence. Our goal is to teach our youth how to pray and grow in their relationship with Our Lord, Jesus Christ, through the Holy Eucharist and knowledge of their faith. Any youth in grades 8 through 12, especially those who have received the Sacrament of Confirmation, are welcome to attend.
Every Wednesday night at 6 p.m. at St. Joseph Parish Hall. While children attend classes, parents and others are welcome to attend the Adult Faith Formation Series in the church.
T
he K-8 Religious Education Program strives to catechize our children through sharing the basic elements of the Catholic faith and preparation for the reception of Sacraments. This is done in a classroom setting using a variety of teaching techniques. A student that is catechized throughout their elementary school years should finish 8th grade knowledgeable about the following areas: Traditions and history of the Catholic Church; key stories of Scripture; Catholic morality; Prayer; and the Sacramental life of the Catholic Church. All youth (K-12th grade) are required to be part of religious education. It is the obligation of parents to insure their child's participation. On the day of a child's baptism, each parent promised God and the Church they would bring the child up according to the law of Christ and His Church- This MUST be fulfilled.
Religious Education Registration
---